The Sikorsky UH-60A Black Hawk is a four-blade, twin-engine, medium to heavy lift utility helicopter. Named after the Native American war leader Black Hawk, the UH-60A entered service with the U.S. Army in 1979. Modified versions have also been developed for other Armed Services branches and Black Hawks have served with distinction in combat conflicts across the world.
The UH-60A Black Hawk utility helicopter has been used in the public sector for over 40 years, and is considered the "workhorse" of helicopter aviation transport. This safe, powerful and reliable utility helicopter is a perfect solution for heavy lift jobs.
General characteristics:
Crew: 2 Pilots + 1 Crew Chief
Capacity: Up to 8,000 pounds of cargo externally
Length: 64 ft 10 in (19.76 m) including rotors
Fuselage length: 50 ft 1 in (15.27 m)
Width: 7 ft 9 in (2.36 m)
Height: 16 ft 10 in (5.13 m)
Empty weight: 11,100 lb (5,035 kg)
Max takeoff weight: 22,000 lb (9,980 kg)
UH60-A Powerplant: 2 x T700-GE-700C turboshaft engines
UH60-A+ Powerplant: 2 x T700-GE-701D turboshaft engines
Main rotor diameter: 53 ft 8 in (16.36 m)
Main rotor area: 2,260 sq ft (210 m2)
Maximum speed: 193 kn (222 mph, 357 km/h)
Cruise speed: 150 kn (170 mph, 280 km/h)
Service ceiling: 19,000 ft (5,800 m)
Rate of climb: 1,315 ft/min (6.68 m/s)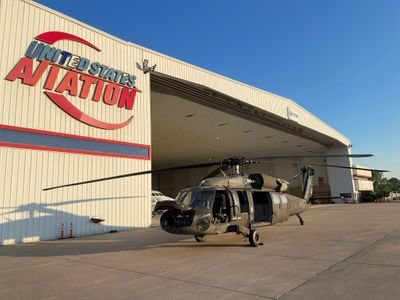 Black Hawk UH-60A+ is a UH-60A with upgraded T700-GE-701D engines, improved durability gearbox, and updated flight control system.
more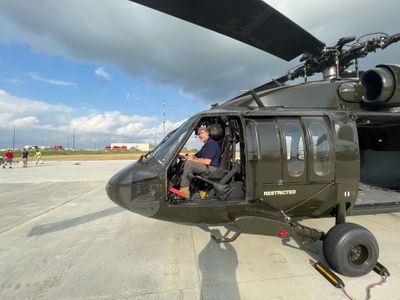 The original U.S. Army version is equipped with T700-GE-700 engines.
more
Liftoff! The NEW UH-60A+ Heads to Tulsa!